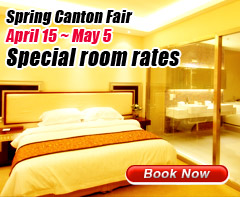 The city of Guangzhou in China, known as Canton until 1949 and still referred to that way by many Westerners, is one of the new capitals of global trade. In addition to being the home of thousands of Chinese and multinational businesses, it also hosts the world's largest trade fair, known as the China Import and Export Fair as well as its unofficial name, the Canton Fair. The Fair is held twice a year, and the first one in 2009 will be the 105th in its history.

Because of its worldwide influence and the well-attended Fairs, there is a constant influx, as well as a permanent community, of foreigners. While the hospitality and innate honesty of the Chinese people is well known, there are unscrupulous people everywhere, and Guangzhou is no exception. Foreigners are targeted for any number of scams, among which is the widespread "taxi scam."

How it works

Taxi scams have become quite common in Guangzhou, especially during the twice-yearly Canton Fair, but visiting foreigners are always at risk for this petty deceit no matter when they visit. The drivers quote an inflated price, or take roundabout routes to increase their fares and find other creative ways to charge customers extra.

Passengers can end up paying from three to 10 times the metered fare during Fair days, in particular, but overcharging takes place year-round. The fact is, overcharging is only one of the ways that cab drivers can defraud foreign customers. Some cab drivers will give change in counterfeit bank notes, while others will not return lost or misplaced luggage to the owners.





How to handle it

Almost all visiting foreigners have encountered some kind of taxi scam in Guangzhou, many of them during Canton Fair days, but normally they do not know how to handle the problem. Even if they suspect overcharging, their lack of language skills and unwillingness to cause a scene tend to make them pay the extra amount.

If foreigners traveling in Guangzhou do not know how to handle this problem, and are affected by the aforementioned language barrier, they are easy targets for scammers. These travelers should not feel powerless, however, since the punishment for taxi scams is severe, and a complaint can cause immediate suspension of a taxi driver's license by the local authorities. Just knowing this much can help suspicious travelers protect themselves from being overcharged.

Ken Lin is the manager for the Canton Fair Division of Wentrip.com, one of the foremost service agents for business travelers to China. Based in Guangzhou, Wentrip and its Canton Fair Division are staffed by professional service personnel who have mastered all of various fair-related issues. They are thoroughly familiar with Guangzhou, its hotels and streets and the way that business is supposed to be conducted.

Wentrip provides not only bilingual hotel maps and addresses in English and Chinese, but also such helpful information as the normal taxi fares to various locations (airport, bus station, exhibition center, etc.) from a visitor's specific hotels. In addition, the firm provides detailed guidance on how to handle taxi scams, how to note the taxi driver information on the in-car permit, helpful phrases and other advice.

In extreme cases, if foreign visitors cannot handle a situation by themselves, they can call Wentrip's local service and get emergency support immediately, even over the phone. In fact, Wentrip local service teams receive phone calls from any number of visitors asking for help to resolve taxi scams. Normally, passengers do not want to complain about the drivers to the authorities, so Wentrip staff reprimand the unscrupulous drivers directly and request them drive the guests to the destination and charge only the correct, metered fare.

To provide this kind of service, a company should have an office in Guangzhou or at the very least, a team that knows Guangzhou very well. In addition, each team member should be familiar with all the Canton Fair-related issues and speak English well. Wentrip is one such firm, and already has a solid track record of success in helping foreign visitors to their city.

"As long as the local service and support team members are familiar with all the roads in the city, and provide this service," Lin says, "drivers can do nothing" to defraud visiting foreigners. Lin notes that few groups or companies other than Wentrip offer this level of service, as intimate knowledge of the city, the language and the culture is required for success in advising foreign visitors on these matters.

Wentrip provides information and travel resources in China. Whether you're looking for a Canton Fair hotel, Hong Kong hotels or are traveling to a different city or region -- Wentrip will help you find the right advice and accommodations fast.