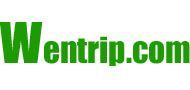 Conditions of Use
Please make sure that you have read the Terms and Conditions below before using our Web site (the "Site", http://www.wentrip.com). By accessing, browsing, and using this Site, you acknowledge that you understand and agree to all the terms and conditions stated here. If you do not agree with any part of these Terms and Conditions, PLEASE QUIT USING THIS SITE.
Wentrip.com may at any time modify these Terms and Conditions and your continued use of this Site will be conditioned upon the terms and conditions in force at the time of your use.
Copyright Notice
You acknowledge that all contents included on this Site, including the information, data, software, photographs, graphs, graphics, sounds, images, illustrations, maps, designs, icons, written and other material and compilations are intellectual property and copyrighted works of Wentrip.com and/or various third party providers.
Corporate Identification and Trademarks
"Wentrip", "wentrip.com" and "Wentrip.com," and any and all other marks appearing on this Site are trademarks of Wentrip ("Trademarks"). You may not use, copy, reproduce, republish, upload, post, transmit, distribute or modify the Trademarks in any way, including in advertising or publicity pertaining to distribution of materials on this Site, without Wentrips written consent.
Noncommercial Use Limitation
This Web site is for your personal and noncommercial use. You represent that you are of sufficient legal age to create binding legal obligations for any liability you may incur as a result of your use of this Site. You agree to promptly update your membership information (if applicable) in order to keep it current, complete and accurate.
You are permitted to electronically copy and print in hard copy portions of this Site only for the purpose of using this Site as a shopping resource. Any other use of materials on this Site, including reproduction for a purpose other than that noted above, such as the modification, distribution or republication, without Wentrips prior written consent is prohibited.
Privacy
You confirm that you have read the Wentrip.com Privacy Policy , the terms of which are incorporated herein, and agree that the terms of such policy are reasonable and satisfactory to you. You consent to the use of your personal information by Wentrip.com and/or its third party providers and distributors in accordance with the terms of and for the purposes set forth in the Wentrip.com Privacy Policy.
No Warranties
Unless a Provider has agreed otherwise, all products, services, advice, merchandise and information available through this Site are provided on an "as is," "as available" basis without warranties of any kind, either expressed or implied. No warranty or guarantee is made including, but not limited to (i) that use of this Site and all software, products or services associated with this Site will be error free, (ii) regarding the completeness, accuracy, reliability or quality of any information content, data, service, advice or merchandise provided or available through this Site, (iii) regarding the availability of products and/or services through this Site, (iv) that a User will receive the lowest available price for goods and/or services available through this Site, (v) regarding the results that may be obtained from the use of this Site, or (vi) regarding the performance or non-performance of this Site.
General Limitation of Liability
IN NO EVENT SHALL Wentrip, ITS AFFILIATES, AND/OR THEIR RESPECTIVE SUPPLIERS BE LIABLE FOR ANY INJURY, DEATH, LOSS, CLAIM, DAMAGE, ACCIDENT, DELAY, OR ANY SPECIAL, EXEMPLARY, PUNITIVE, INCIDENTAL OR CONSEQUENTIAL DAMAGES OF ANY KIND, WHETHER BASED IN CONTRACT, OR ARE IN ANY WAY CONNECTED WITH ANY USE OF THIS SITE OR WITH ANY DELAY OR INABILITY TO USE THIS SITE, OR FOR ANY INFORMATION, SOFTWARE, PRODUCTS OR SERVICES OBTAINED THROUGH THIS SITE, EVEN IF A PARTY HAS BEEN ADVISED OF THE POSSIBILITY OF SUCH DAMAGES.
Third Parties
If you submit Requests for or on behalf of a third party ("Third Party"), you are responsible for any error in the accuracy of information provided in connection with such use. In addition, you must inform the Third Party of all Terms and Conditions applicable to all products or services acquired through this Site including all rules and restrictions applicable thereto.
Every User using this Site for or on behalf of a Third Party agrees to indemnify and hold each Covered Party harmless from and against any and all liabilities, losses, damages, suits and claims (including the costs of defense), relating to the Third Partys or the Users failure to fulfill any of its obligations as described above. User is directly responsible for any Request submitted including related fees, charges and performance obligations.
Links to other Web sites and Services
This Site contains links to outside services and resources; any concerns regarding such services or resources should be directed to the particular outside service or resource provider. None of the Covered Parties guarantees or warrants the accuracy or completeness of the information or content included on the Web sites of these outside services and resources. The outside services and resources are in no way related to this Site, and are neither its employees nor agents.
Governing Law
The Terms shall be governed and construed in accordance with the laws of the Peoples Republic of China.
Travel Service Limitation of Liability
Wentrip is acting solely as a booking agent for airlines, hotels or other travel service providers (collectively, "Travel Suppliers") in selling travel services, or in accepting reservations or bookings for such services to be provided to you. Wentrip does not assume liability for any injury, damage, death, loss, accident or delay due to any fault, act of negligence, omission or default of a Travel Supplier, or by a force majeure factor. The contract of carriage in use by a Travel Supplier, when issued, shall be between the Travel Supplier and the passenger.
Use of Wentrip.com Airline Ticket Booking
Airline tickets available through this Site are subject to the published conditions of carriage and rules of the applicable airline.
Use of Wentrip.com Hotel Reservation
Hotel reservations available through this Site are subject to the published conditions of the applicable hotel.