Shenzhen is a modern financial and commercial metropolis in China; however, it lacks the history and natural beauties which attract visitors to many of the other big cities in China. In recent years the city has compensated by developing excellent theme parks and man-made scenic spots. These modern facilities have succeeded in drawing in crowds of tourists, eager to check out the contemporary attractions.
Dafen Oil Painting Village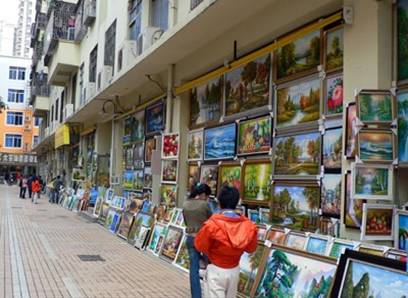 home to hundreds of artists duplicating classical Western paintings and doing original work, is accessible by bus 106 from Luohu (3 RMB).
Window of the World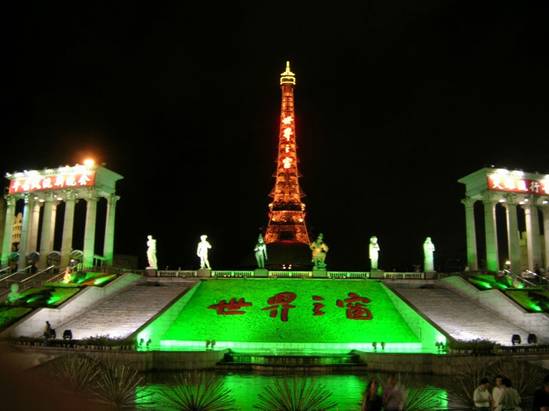 a theme-park near to Shenzhen Bay, is one of the highlights of Shenzhen. The park displays miniature versions of more than 130 world famous sites, from each of the five continents. Here you are able to visit many of the world's great landmarks in just one day. Of course, since you are in China, you will also want to explore some of China's most well-known sites.
Splendid China and China Folk Culture Villages are two special destinations built in Shenzhen to that will introduce you to many interesting aspects of China's culture and scenery. Splendid China features miniature replicas of splendid Chinese historical sites and charming natural beauties. China Folk Culture Villages will introduce you to the cultures of the many Chinese ethnic groups. Its highlights include life-sized examples of distinctive buildings from each group, as well as rich ethnic performances. Window of The World allows you to travel around the world in one day. This 480,000 square meters park has a beautiful natural landscapes and wonderful lighting at night. Inside, you can climb the 1:3 ratio Eiffel Tower, Egyptian Pyramid, Pisa Tower, Taj Mahal of India, Grand Canyon, and other famous places of interest. [Metro: Shi Jie Zhi Chuang]
The He XiangNing Art Museum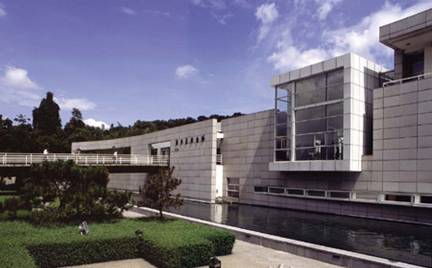 is China's second national modern art museum, in addition to the National Art Gallery of China. It contains an excellent collection of world-class modern paintings, and is currently host to to the "Fresh Eyes 06" exhibition. It is well worth a visit for anyone interested in art. He Xiangning Art Gallery is located in Overseas Chinese Town (OCT) of Shenzhen. It is accessible via Shenzhen Metro at Hua Qiao Cheng Station, Exit C (or, if closed, use Exit D). Walk west towards the McDonald's restaurant (in direction of terminus station, from Exit D towards Exit C). The art gallery is next door to McDonald's (on the left). Admission is just RMB20, and entrance is free on Fridays.
Happy Valley

Happy Valley, which is near to the Window of the World, is the largest theme park in Shenzhen and consists of nine major projects, including a Spanish Square, Cartoon City, the Adventure Hill, and the Maya Water Park. While at Happy Valley, you can join in the many exciting games and enjoy a variety of excellent performances which cater to both children and adults. Happy Valley is a full service park, providing visitors with everything from sightseeing, entertainment, catering and accommodations, to shopping.
You need to have 'Adobe Flash Player' installed to play the following video. Click here to install...

Editor: canton fair