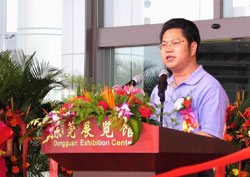 Dongguan Exhibition Center, located at No.97 Hongfu Road along Dongguan Central Square, covers an area of 31,000 square meters. Its construction area reaches 26,000 square meters, among which 10,000 square meters are available for exhibition and display. Our Exhibition Center, a complex exhibition center, aims at showing the mien of our famous modern manufacturing city, vividly presents Dongguan's great achievements in the past and grand prospects in the future, concentrates what Dongguan experienced, gained, and develops into and involves the functions of propaganda, education, consultation and entertainment.
We tried to open to the public in April 2004, then formally opened to the public in September 2004.

The Exhibition Center focuses on cultural developments of Dongguan municipality, a previously backward town. It is divided into five sections: History Hall, Economy Hall, Urban Construction Hall, Culture Hall and Independent Exhibition Area.

History Hall shows Dongguan ancient civilization,while created miracles reappear since reform and opening up. Dongguan is an important place of origin of south China's culture, significant place in modern history of China, anti-Japanese war base in southern China as well as a pilot area in reform and opening up.

| | |
| --- | --- |
| | |
Economy Hall describes great economic achievements of our city, displays export-oriented economy, IT industry, industrial park economy, private owned economy, modern service industry and get rich together in a well-to-do society, reflecting export-oriented characteristic and the IT industry characteristic of treating production as pillar industry.

City Hall, with four parts of "building city and road as well as renovating mountain and water", reflects urban construction achievements of "one year one stride, thus a new city emerges in five years " and grand prospects of our city in the future.

Culture Hall, with great achievements by Dongguanese and traditions and customs in Dongguan, displays how important Dongguan culture in Chinese history, upsurge of culture construction and charms of new city of culture.

Independent Exhibition Area shows solicitude of leaders from CCP and State as well as contribution done by labors from each battlefront, other cities or areas and investors.

Magnificent scenes, convincing data, artistic design and high-tech facilities help to show Dongguan effulgent history, great achievements and bright future. The Exhibition Center will be a window of Dongguan, a high-profile cultural resort and an education base as well.

Editor: canton fair